SW3
Sector-shaping investment
Having worked closely with Rowdy on the brand development for their own vertically integrated asset management platform Occu, SW3 appointed us to develop their own brand to ensure its performance was aligned with their strategic and disruptive vision, and how they are shaping the property landscape in Dublin.
Strategy
Positioning
Key messaging
Design
Visual identity
Verbal identity
Activation
Website
Track Record document
Social assets
CHALLENGING THE SECTOR
SW3 Capital's reputation for successful investments in the Irish and UK property sector was on the rise but, until now, its brand presence had been under the radar. With an impressive track record and bold ambitions, they needed a brand with clear stand-out in a heavily corporate and competitive sector, which would reflect the forward-thinking people behind the brand.
Working closely with the three directors, through immersion sessions and sector research, we set about redefining their brand strategy and key messaging, helping them articulate their offer into user-friendly, digestible language.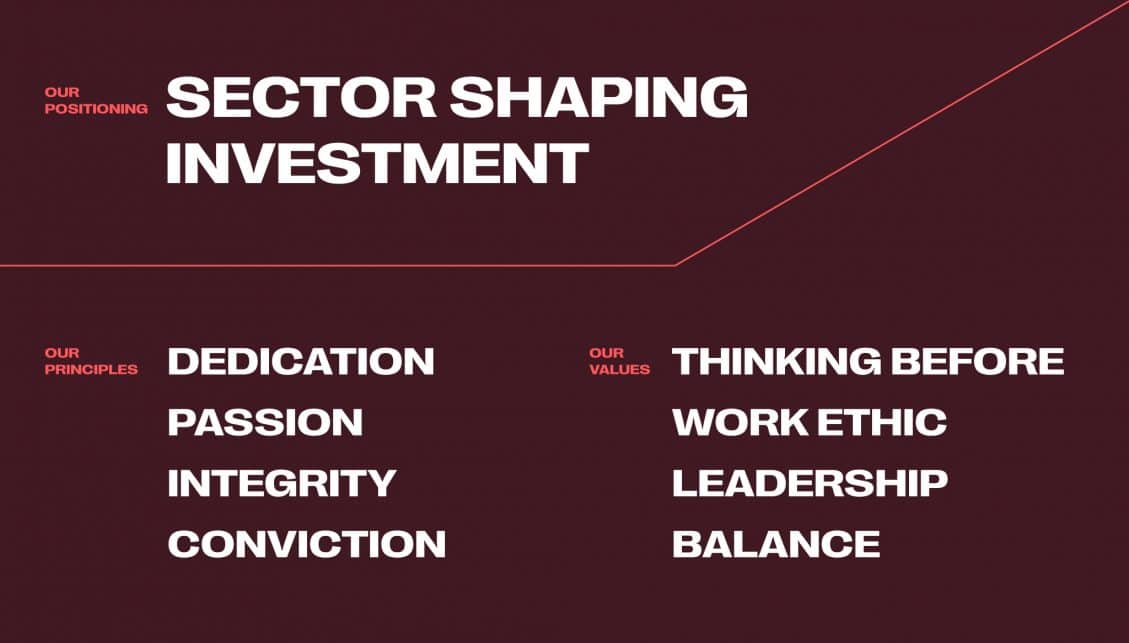 THE POINT OF CHANGE
The central idea of 'sector-shaping investment' became the core for the key messaging and visual identity. SW3's redefined strategy refocused on their recognition of the opportunity in risk, which is reflected in the bold creative.
Their expertise is in employing their extensive knowledge to pinpoint the moment to strike with conviction, pre-empt trends and define the direction of travel of the investment market. This decisiveness and confidence is reflected in their refreshed look—focused on the point of refraction that symbolises their impact in inciting change, whilst its consistent angles are reflective of the three directors.
A NEW DIRECTION OF TRAVEL
SW3's bold new identity stands out in a traditionally conservative and heritage-focused market landscape—elevating their status and reflecting their achievements to date and ambitions for the future. We have brought the new brand to life across a dynamic and interactive website that reflects their new identity, and key materials including a track record document, case studies, internal documents and branded stationery.