CELTIC F.C.
Feeling the energy
Celtic F.C. is one of the world's biggest football clubs, with a relentlessly dedicated and committed fanbase. With over 1 million supporters watching them live per season—the most of any football team in Europe—the club needed a season ticket campaign that echoed the adrenaline of match day excitement.
Strategy
Campaign positioning support
NEVER MISSING A MOMENT
For Celtic F.C. supporters, a season ticket isn't just a yearly purchase—it's a ritual. An opportunity to be amongst 52,000 other fans at every single match for the season. A place to show your dedication, and never miss a moment. Ahead of their 2020 season, we collaborated with Communicorp UK and Massive Music to produce a campaign that brought this calling and emotion to life.
A CULTURE, A CALLING
The core campaign idea—"We'll be there"—was a rallying cry to unite fans of all ages and backgrounds. Working closely with Communicorp UK, we placed the fans front and centre of the campaign—with portrait photography that visualised their excitement, and messaging that spoke directly to their camaraderie and dedication. Then, through a collaboration with Massive Music, we paired the visual concept with a soundtrack that echoed the pulse of match day anticipation.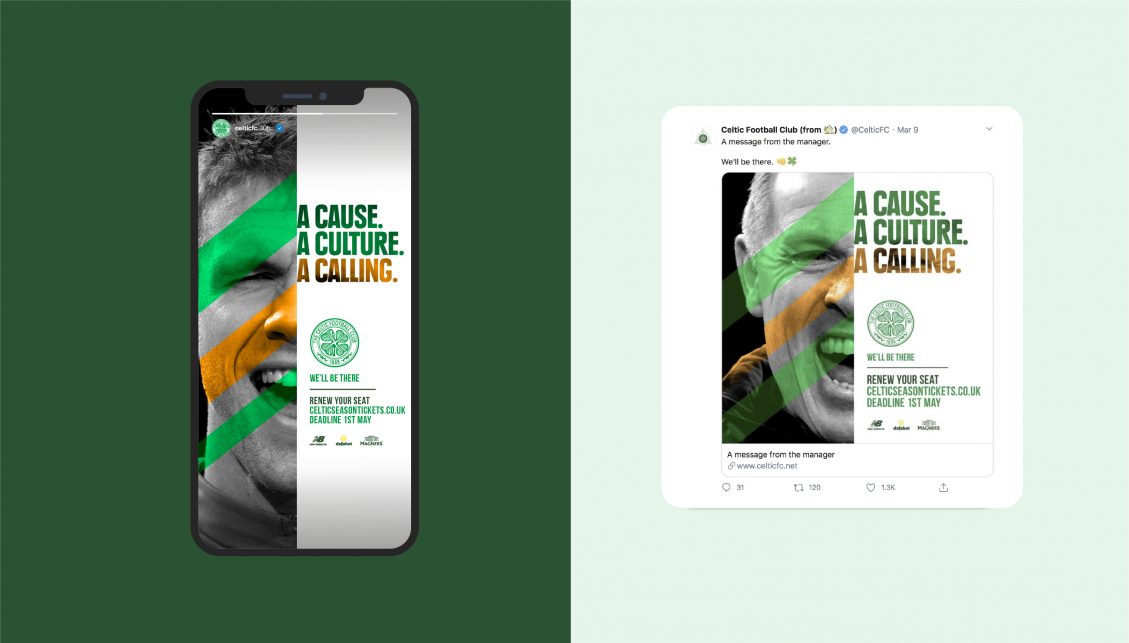 REACHING THE GOAL
Working to tight deadlines, our team crafted a robust design solution—pairing a simple and solid structure with asset flexibility across 240 print, social media, digital and OOH assets. Taking inspiration from fans' emotional connection with the team, we crafted adaptations that featured eight of Celtic F.C.'s key players and manager Neil Lennon—where the heroes of the pitch and of the Celtic F.C. culture took the spotlight. In every moment, ensuring the buzz of match day could be felt, heard and celebrated.