FROM HERE
Starting a journey
Our college years are a time of growth, discovery and creativity—taking us on an exciting chapter from first-year friendships to graduation achievements. To capture the essence of this experience, we created a new student accommodation brand: where the journey starts from the moment you arrive.
Strategy
Positioning
Naming
Verbal Identity
Messaging
Activation
Website
Social Campaign
Hoardings & OOH
WHERE IT ALL STARTS
We needed a new name and identity that not only stood out in a crowded and confusing accommodation landscape in Ireland, but that spoke to the fun, challenging, messy, stressful and transformative moments of student life. To do it, we landed on the name 'From Here': something directional, ambitious and idealistic, that hinted at the endless possibilities lying in store for students from the minute they step foot on campus.
JUMPING IN
This new name became the catalyst for a playful, inspirational brand language. To bring this sense of forward momentum through visually, we crafted a vibrant identity—with series of concentric shapes evoking a sense of movement, direction and energy. Squares transition into diamonds, and triangles into arrows—with layered photography and animation linking back to the beauty of embracing different perspectives, and the thrill of diving into something new.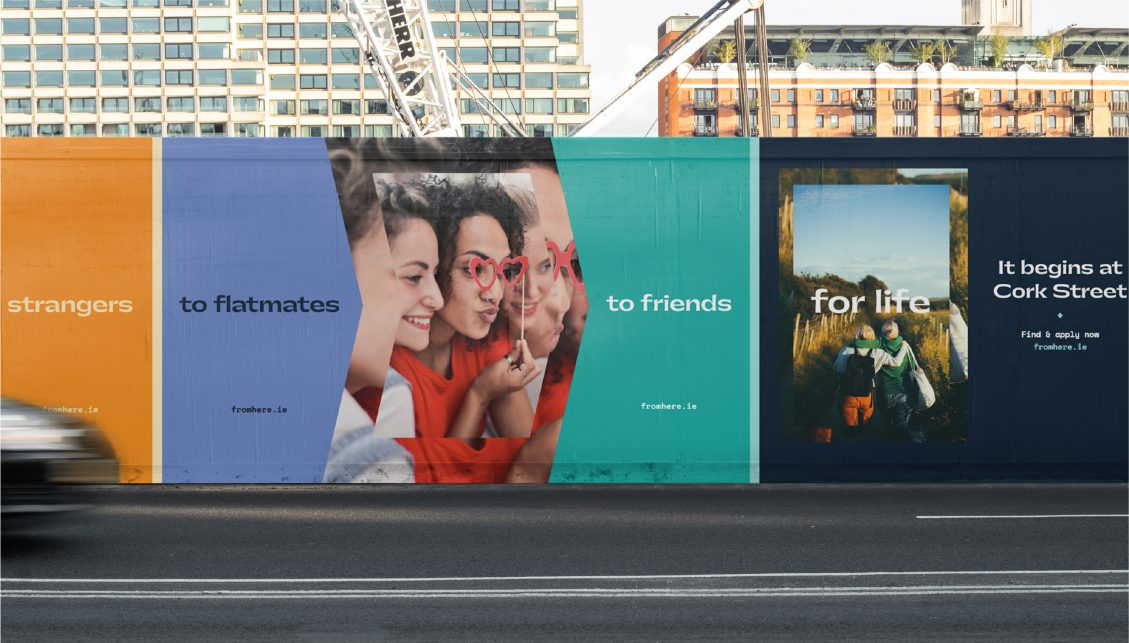 FROM HERE, TO THERE
Having previously existed as an external booking platform, part of bringing From Here to life was fully reimagining the user experience. We designed and developed a new website with layered flickering GIFs, patterned hover effects and subtle transitions—all working to create an ongoing sense of movement. Then, we rolled out the brand out across a wide variety of print, digital and OOH applications: from hoardings, marketing flyers, bus shelter ads and phone box wraps, to digital advertisements and social media content.
We've been recognised by
Creativepool Annual /


2020 Shortlisted for Best in Branding